Fresh from KOMA Elektronik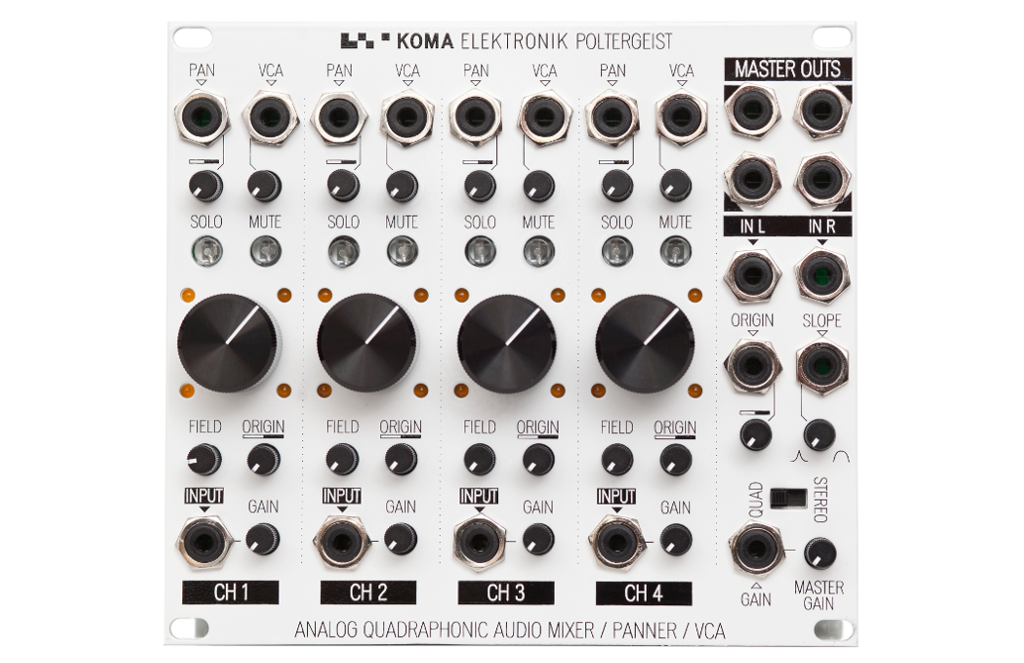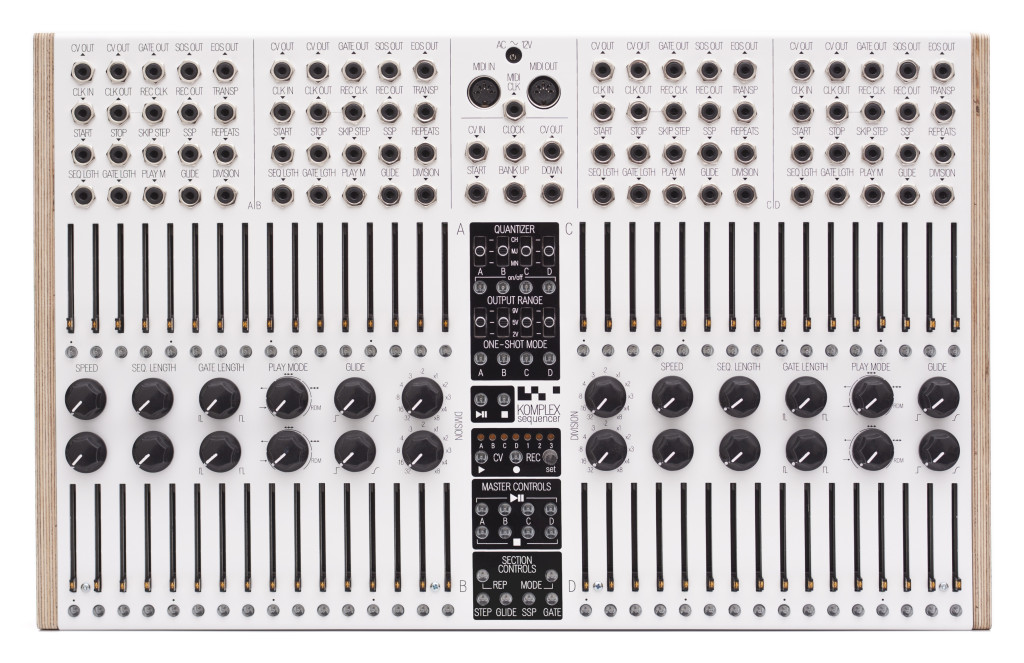 Poltergeist
Quadraphonic Audio / Panner / VCA
The KOMA Elektronik Poltergeist Analog Quadraphonic Audio Mixer / Panner / VCA is unlike any other Eurorack module that has previously existed. Previously you would need multiple modules from various manufacturers to achieve something similar to what we perceive as quadraphonic sound. But now with one single module, you can mix and control signals quadraphonically with complete control and beyond. Four channels each with it's own VCA, plus a stereo auxiliary input, are mixed out to four separate outputs enabling the user to manipulate signals both stereophonically and quadraphonically in entirely new and ghostly ways with its 21 ins and outs, 48 analog SSM VCAs and unique hands-on mixing features.
With performance in mind when designing the Poltergeist, KOMA Elektronik included large Pan knobs for total control over the 360 degree range field. Also, clickless solo and mute buttons allow for effortless and instantaneous changes on the fly. Beyond these controls, you can also tailor your sound with extreme detail using functions such as Slope, Field and Origin. With just this mixer, some audio sources and a couple of LFOs, extremely complex sound design can be achieved.
Komplex Sequencer
Monster CV/Gate & MIDI sequencer for serious players
Our new step sequencer lets you construct complex musical patterns, via both MIDI and CV/Gate. Built around four full-featured 16-step sequencers in a compact and light enclosure, the Komplex Sequencer is a powerful tool both live and in the studio. All features have their own dedicated controls; no screens or submenus, and all features have their own dedicated in- and outputs on the large 87-point patch bay.  By patching both internal and external CV sources through the patch bay of the Komplex, you can control any parameter of the sequencer immediately and "sequence the sequence."
Controls include Speed, Sequence Length, Gate Length, Play Mode, Glide, Division, Transpose, Repeat, Sequence Start Point and Skip. Additionally, the sequencer can vary output range and also has a quantizer on board operable in different scales.  And not only is the sequencer compatible with almost any synthesizer with CV/Gate, MIDI note, velocity and CC information can also transmitted by any of the four sequencers. Lastly a seven bank CV Recorder is on board and can output up to 5 banks at once! The Komplex Sequencer opens up a whole new world of creative possibilities and starts where other sequencers have stopped.
Latest from AMOK Tapes
For you and your Modular
TV: In The KOMA Studio With…