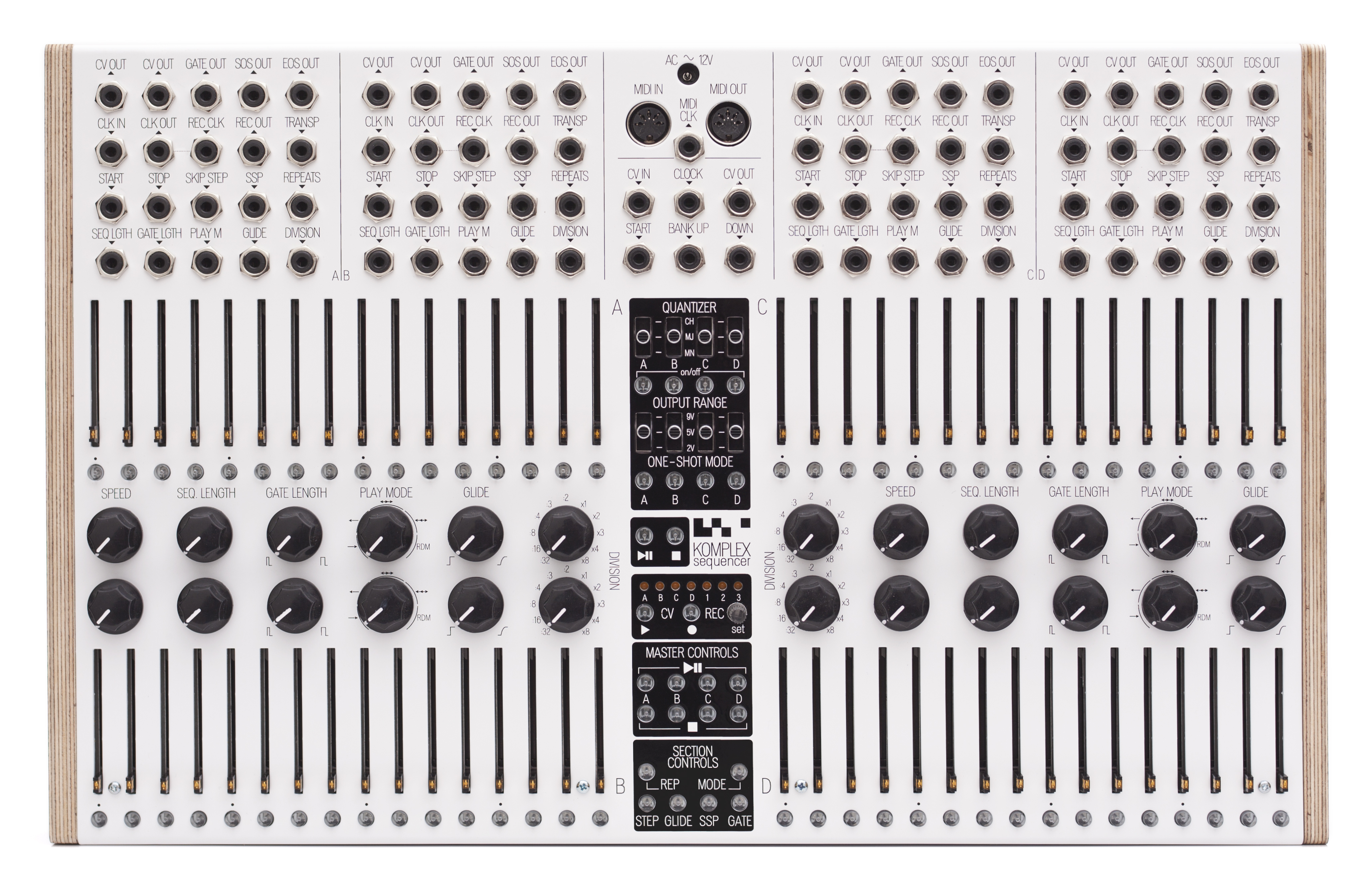 CURRENTLY SHIPPING:
KOMA Elektronik Komplex Sequencer
Our new step sequencer lets you construct complex musical patterns, via both MIDI and CV/Gate. Built around four full-featured 16-step sequencers in a compact and light enclosure, the Komplex Sequencer is a powerful tool both live and in the studio. All features have their own dedicated controls; no screens or submenus, and all features have their own dedicated in- and outputs on the large 87-point patch bay.
By patching both internal and external CV sources through the patch bay of the Komplex, you can control any parameter of the sequencer immediately and "sequence the sequence." Controls include Speed, Sequence Length, Gate Length, Play Mode, Glide, Division, Transpose, Repeat, Sequence Start Point and Skip. Additionally, the sequencer can vary output range and also has a quantizer on board operable in different scales.
And not only is the sequencer compatible with almost any synthesizer with CV/Gate, MIDI note, velocity and CC information can also transmitted by any of the four sequencers. Lastly a seven bank CV Recorder is on board and can output up to 5 banks at once! The Komplex Sequencer opens up a whole new world of creative possibilities and starts where other sequencers have stopped.
More information and orders can be found here.
New from AMOK Tapes
Ontal is a collaborative project which consists of Boris Brenecki and Darko Kolar, both hailing from Serbia. They focus on the bleakest, blackest apocalyptic techno and grinding mechanoid rhythms. Formed in November 2011 and influenced by numerous music genres, their sound can be described as an uncompromising, hard and intense assault. Breathing new life in the industrial strains of techno and the darker realms of the dancefloor and mind.
"Simulacron" is an extreme exercise in analog synth arpeggios and industrial drumming. In addition, the cassette comes with two exclusive sequences. credits
All C30 cassettes come vacuum-sealed with insert. AMOK004 is professionally duplicated.
Purchase this new tape here.