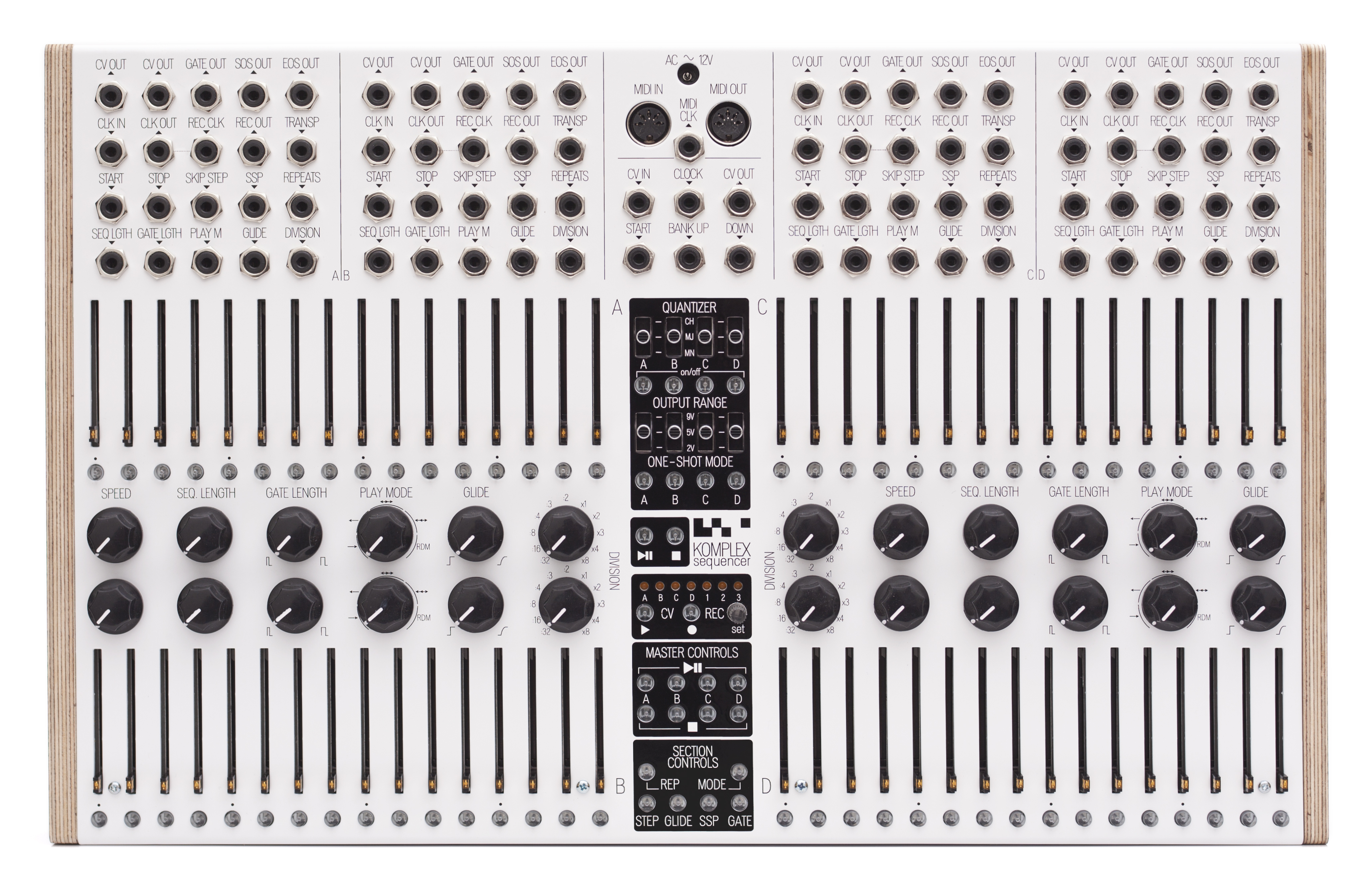 Currently in production and to be released very soon:
KOMA Elektronik Komplex Sequencer
Our new step sequencer lets you construct complex musical patterns, via both MIDI and CV/Gate. Built around four full-featured 16-step sequencers in a compact and light enclosure, the Komplex Sequencer is a powerful tool both live and in the studio. All features have their own dedicated controls; no screens or submenus, and all features have their own dedicated in- and outputs on the large 87-point patch bay.
By patching both internal and external CV sources through the patch bay of the Komplex, you can control any parameter of the sequencer immediately and "sequence the sequence." Controls include Speed, Sequence Length, Gate Length, Play Mode, Glide, Division, Transpose, Repeat, Sequence Start Point and Skip. Additionally, the sequencer can vary output range and also has a quantizer on board operable in different scales.
And not only is the sequencer compatible with almost any synthesizer with CV/Gate, MIDI note, velocity and CC information can also transmitted by any of the four sequencers. Lastly a seven bank CV Recorder is on board and can output up to 5 banks at once! The Komplex Sequencer opens up a whole new world of creative possibilities and starts where other sequencers have stopped. The first 100 units are sold out. Please email us to get on the list for the second run!
More information can be found here.
New from AMOK Tapes
CVK (Control Voltage Khomeini) is a Norwegian techno duo based between Berlin and Oslo. Having only released one 12″ on Vika Oslo last year, Ådne Meisfjord (also of Serena-Maneesh and 120 Days) and Kristian Rangnes return with their first eponymous release on AMOK Tapes, the new label run by Berlin synthesizer manufacturer KOMA Elektronik.
CVK use their modular and hardware rig to create a deeply layered and dark atmosphere. At the same time, the rhythms are driving and industrial, holding the listener up against dense, powerful ambiences.
All C30 cassettes come vacuum-sealed with insert. Professionally duplicated.
Purchase here.