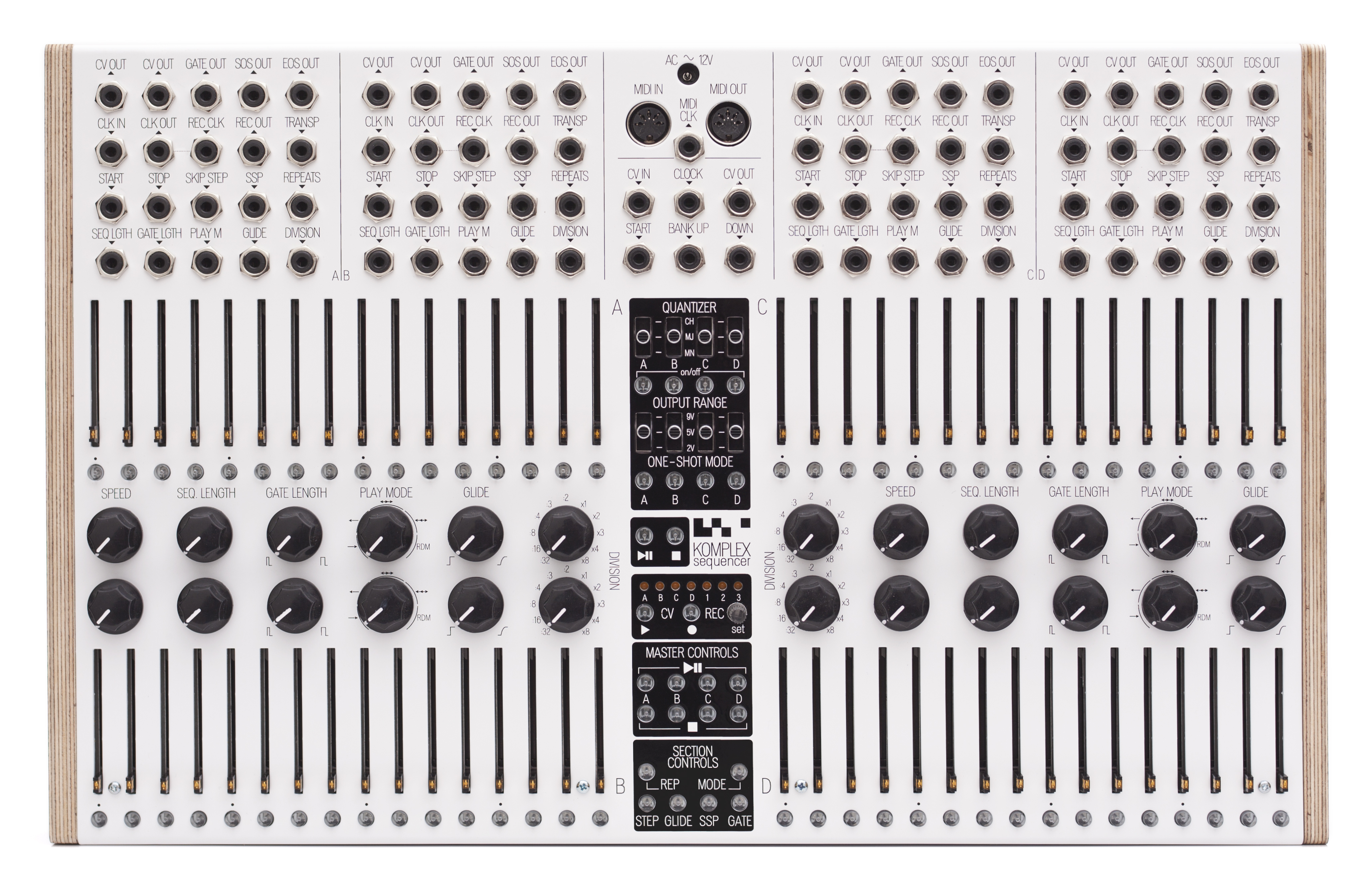 CURRENTLY SHIPPING:
KOMA Elektronik Komplex Sequencer
Our new step sequencer lets you construct complex musical patterns, via both MIDI and CV/Gate. Built around four full-featured 16-step sequencers in a compact and light enclosure, the Komplex Sequencer is a powerful tool both live and in the studio. All features have their own dedicated controls; no screens or submenus, and all features have their own dedicated in- and outputs on the large 87-point patch bay.
By patching both internal and external CV sources through the patch bay of the Komplex, you can control any parameter of the sequencer immediately and "sequence the sequence." Controls include Speed, Sequence Length, Gate Length, Play Mode, Glide, Division, Transpose, Repeat, Sequence Start Point and Skip. Additionally, the sequencer can vary output range and also has a quantizer on board operable in different scales.
And not only is the sequencer compatible with almost any synthesizer with CV/Gate, MIDI note, velocity and CC information can also transmitted by any of the four sequencers. Lastly a seven bank CV Recorder is on board and can output up to 5 banks at once! The Komplex Sequencer opens up a whole new world of creative possibilities and starts where other sequencers have stopped.
More information and orders can be found here.
New from AMOK Tapes
Having been extremely prolific for 5+ years with just this project, Drvg Cvltvre has released several full length records and 12"s. Beyond that artist Vincent Koreman has cut his teeth in different projects (Ra-X, Hidden Rulers, Vince Destructo + more) through the nineties ranging from techno and electro to house on labels such as KK and Bunker. Still within all these releases, his unique vision of music comes through: something dark and otherworldly yet extremely moving and mutated.
Finally, the Tilburg resident has come to AMOK Tapes with 4 sinister techno tracks on this self-titled cassette. He blends dirty, distorted hardware electronics with acidic, trippy techno that is perfect for a morning in a pitch black cellar. His DIY punk attitude shines through with uncompromising slow-burning New Beat rhythms and basslines topped with abrasive noises. Meanwhile, demonic vocals and synths writhe underneath. The latest Drvg Cvltvre has to offer continues to prove that his massive output is consistently strong and yet ever evolving — and this tape may be some of the heaviest to date.
All C31 cassettes come vacuum-sealed with insert. AMOK002 is professionally duplicated.
Purchase this new tape here.